FOR IMMEDIATE RELEASE
Contact: Abby Clark, Owner, Signature Quarters
Email: abby@signaturequarters.com
Phone: 405-233-8188
Address: 4322 S. 4th Street, Chickasha, OK 73018
Signature Quarters Signs Endorsement with Barrel Racer Amberley Snyder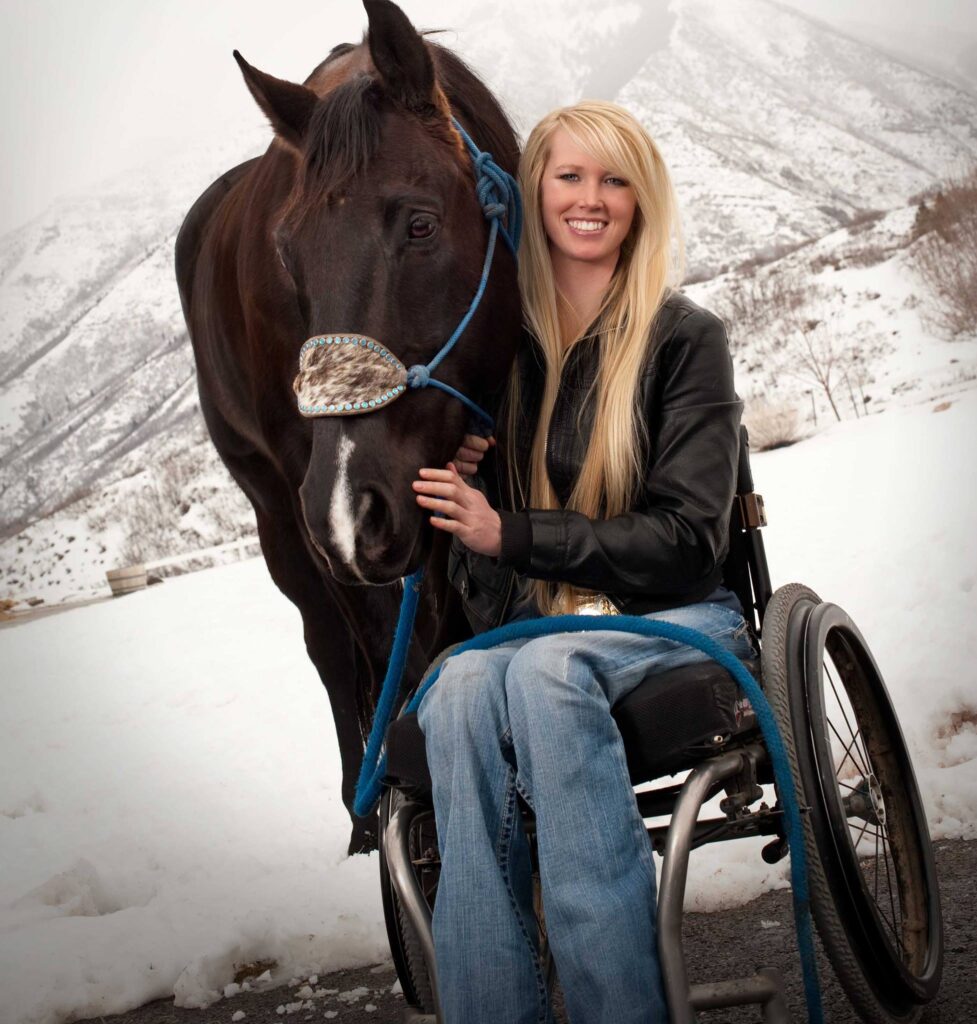 She's already a role model for barrel racers young and old around the world, but Utah cowgirl Amberley Snyder continues to set new goals for herself.  A Chickasha, Okla. company, Signature Quarters, has big plans to help her achieve them.
A professional barrel racer, Snyder was parayzed in 2010 at the age of 18 when her truck slid off the highway, ejecting her from the vehicle and slamming her into a fence post that broke her back.  Four months later, thanks to unwavering determination and a competitive spirit, she was back on her horse.  Since then, she has faced countless challenges and adversity, but has continued to achieve her goals, including earning her Women's Professional Rodeo Association card in 2017.
Outside the arena, Snyder shares her inspiring story through powerful public speaking engagements at events and in schools.  In 2019, Netflix released a movie about Snyder titled "Walk. Ride. Rodeo." Snyder appears in the film as a stuntdouble with her horse, Power.
Through a new contract agreement with Signature Quarters, Snyder will be traveling to rodeos across the country in a horse trailer created just for her.  Signature Quarters specializes in custom horse trailer conversions, and their team will design a one-of-a-kind living quarters tailored especially for Snyder, complete with special accessibility features like a wheelchair lift and a custom shower.  Beyond that, Snyder will have the opporutinity to handpick all unique finishes and fixtures from floor and furniture to ceiling and sinks.
We are so excited for the opportunity to work with Amberley on her new living quarters," said Abby Clark, owner of Signature Quarters.  "In partnering with her, we hope to create a custom space that will help her keep achieving her goals.  We are proud to build her a home away from home!"
The horse trailer itself will be built by Hart Trailer, another of Snyder's sponsors also based in Chickasha.  The trailer will be a Tradition model four horse with a 16.5' shortwall living quarters, and it will feature Hart's unique Smart Tack design for the tack storage area.
"Working with Amberley has been a blessing and a wonderful experience," said Tracy Hart, owner of Hart Trailer. "Her 'can do' attitude and tenacity has been amazing to witness. I'm very thankful that she chose Hart Trailer. Allowing us to be a part of her story, so that we can build her the very best horse trailer."
Snyder will be visiting Oklahoma to work with both Signature Quarters and Hart in March to make final design plans for her trailer.  She will also be competing at The American Rodeo this month.
###
About Signature Quarters – Since opening their doors in 2006, Signature Quarters has gained a national reputation as one of the finest trailer conversion companies in the United States. Maintaining a tradition of quality work and integrity, their talented personnel produce custom trailer conversions using the finest materials, equipment and techniques available. Located at the heart of the trailer industry in Chickasha, Oklahoma, Signature Quarters builds superior living quarters conversions to the specifications of each customer. With quality, comfort and safety in mind, the SQ team strives to find innovative ways to enhance life on the road in your "home away from home."
 About Hart Trailers – Established in 1968, Hart Trailer remains privately owned and operated by the Hart family.  Over the years Hart has maintained a reputation for manufacturing quality trailers while becoming friends with their customers.  Safety, reliability, convenience, eye appeal and excellence are engineered into every feature of a Hart Trailer. The design features Hart incorporates in its trailer today have been continuously developed for more than 50 years in close cooperation with their customers and dealers.  Because Hart aspires for excellence in trailer manufacturing and service, they have been able to inspire confidence in customers that they have made the right choice in purchasing a Hart Trailer.